Super Bowl of Snacks
chomp the day away
It's the first officially big party of the new year. No, not President's Day, we're talking Super Bowl baby. (Please NFL don't sue us) If you're like us and don't follow football, or maybe live outside the US, or your team was never gonna make it (sorry Raider Nation), it's easy to forget this shit every year. Then suddenly one day at grocery stores across the US all the sodas and chips are piled into the shape of a goal post. In case you're still scrambling on what to bring or just want an excuse to make a god-tier snacking spread for yourself, we've collected our favorite party foods from our site all together in one place for you.
Food can make or break a party. Trust us, we literally wrote a whole fuckin book about it. Finger foods and whatnot that can sit out for a while are always ideal. Think burrito and nacho spreads, pasta salads, and any kind of handheld carb. Don't bother making anything that has to be eaten as soon as it's ready because it won't hold up. You're fighting an uphill battle against distracted, likely inebriated people who are not food focused, no matter how good everything smells. You don't wanna spend your whole afternoon in the kitchen warming stuff up while your guests enjoy the big game, unless Kristen Stewart's in the kitchen helping you out. So let's keep it simple.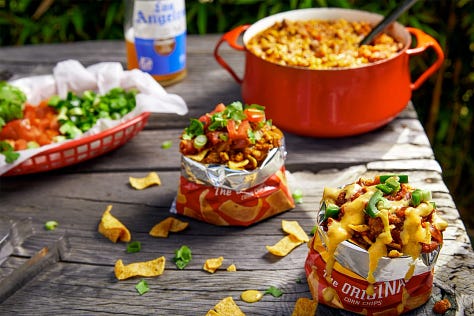 Here are some our favorite foods to serve a crowd:
Snacks
Sips and Sweets
Salads
Thanks for joining us here in The Broiler Room. Subscribers to our Sunday recipe club are getting a recipe for artichoke ravioli perfect for a Valentine's Day dinner or anytime you want something a little extra special.
Not on the list? Time to fix that.
Same time next week k?
Michelle (and Matt)